biography

One very important fact about Alan Merrill: He was the lead singer and songwriter of the first and original 1975 version of "I Love Rock N Roll" with his band, The Arrows. The song has become an enduring international rock anthem, recorded by Joan Jett, Britney Spears, and many others. Joan Jett saw Merrill perform the song on a British television pop show in '76, while on tour with her band, The Runaways, and she was deeply inspired. Her 1982 version of the song was #1 for 8 weeks in the USA.
Alan Merrill was literally born into the world of music. Named Allan Sachs at birth, his parents, Helen Merrill, and sax/clarinetist Aaron Sachs of Earl 'Fatha' Hines Band, are world-renowned musicians.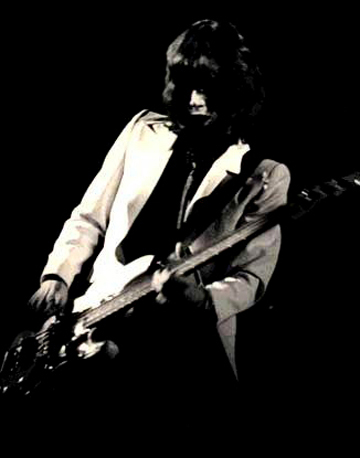 After starting to play music in semi-pro bands in Greenwich Village, Alan eventually moved to Japan in his late teens. Starting his professional career in music with the RCA-Victor Tokyo-based recording group, The Lead, in 1968, Alan replaced Mark Elder as guitarist in the band. They had one hit single, titled "Blue Rose." It was also then that his management changed his professional name to Alan Merrill.
When The Lead broke up, Merrill went solo, recording two popular albums: "Merrill 1" and "Alone In Tokyo" in 1970 -'71. He became the biggest foreign pop star in Japan's domestic market, hosting his own segment on the popular TV show "Young 720," acting in the soap opera "Ji Kan Desu-yo," and being featured in commercials, including major campaigns for Nissan cars and Jun clothing. He was signed to the most powerful agency in Japan, Watanabe Productions. Alan soon grew tired of being a "teen pop idol" and left the agency, recording with a number of artists as a session musician, playing on recordings by the popular artists Garo, Hirao Masaaki, Yamashita Keijiro, Yuya Uchida, Too Much, Miki Curtis, Monsieur, and Alan was a core member of the studio band Godzilla and Yellow Gypsy. Weary of sessions for other artists, and anxious to get back on stage, Alan Merrill formed the hard-edged glam rock group Vodka Collins (as lead singer and guitarist) in 1972 with Hiroshi Oguchi. The band were quickly successful.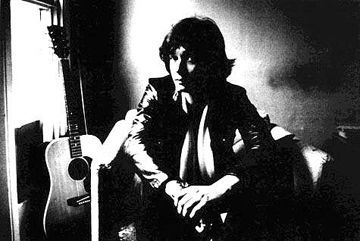 The charismatic Oguchi was already a well-known drummer and media celbrity who had been with the chart hit popular band, The Tempters. Vodka Collins recorded one album, "Tokyo-New York," for EMI Records, and it's proved their most-enduring work. Now available on CD, it remains a consistent seller. Vodka Collins had three hit singles off of the album: "Sands Of Time," "Automatic Pilot" and "Billy Mars." The song "Scratchin'" from the "Tokyo-New York" album was used as the theme for a gangster TV show. All these songs were Merrill compositions, with Japanese lyrics added on a couple (which then became domestic market hits) by drummer Hiroshi Oguchi. After a dispute with their manager in 1974, Alan Merrill left Tokyo altogether.
Relocated to London, Alan formed his next band, The Arrows. As lead singer/bassist of that group, he had hits with "Touch Too Much," "My Last Night With You" and "I Love Rock 'N Roll." He also hosted a weekly TV series in 1976-77 called "The Arrows Show," on ITV/Granada Television. A book was written about the Arrows by Liverpool legend Bill Harry, the former Merseybeat editor, on Everest Books. Famed hit-maker Mickie Most produced the Arrows on his RAK record label. There was even an Arrows cartoon strip which ran for over a year.
When the new wave of punk rock swept the UK in '77, the Arrows became suddenly unfashionable, and disbanded. Merrill then set his sights on the USA, and formed the band Runner with British musicians Steve Gould (Rare Bird) on guitar, Mick Feat (Van Morrison Band) on bass, and Dave Dowle (Whitesnake) on drums. They recorded an album titled "Runner" for Island Records in late 1978, which charted in the USA. When the group broke up in 1980 (due to the legendary "musical differences"), Merrill moved back from the UK to New York.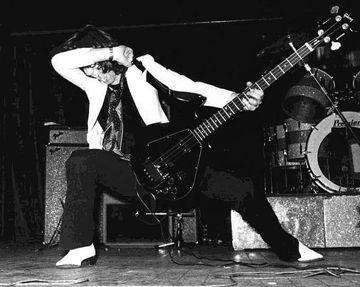 In 1980-83, Merrill toured and recorded with Rick Derringer, contributing to his "Good Dirty Fun" "Live At The Ritz" and "Rick Derringer and Friends" albums, writing songs, singing, and playing guitar on these projects. This Derringer lineup also made a concert film for Sony, "The Rick Derringer Rock Spectacular", which featured all-star guests like Ted Nugent, Southside Johnny, and Edgar Winter. In 1985, Alan released a self-titled solo album Alan Merrill for Polydor Records, a collection of all self-composed tracks. Some heavyweight friends contributing to this album were Steve Winwood, Mick Taylor, and Dallas Taylor. The album got great reviews, and the "Hard Hearted Woman" single from the album was well received, but the album wasn't a chart hit due to poor promotion. The album was later reissued in CD format as "Never Pet A Burning Dog" in 1998.
In 1986, Alan joined Meat Loaf for the remainder of the 1980's and recorded the "Live At Wembley" and "Prime Cuts" albums with the band. In 1990, Alan Merrill got a part in the Savage Steve Holland directed HBO television series "Encyclopedia Brown" playing rocker Casey Sparks. He also wrote the theme song of the show, which was titled "Who Done It?" The show was very popular.
This was followed in the early 1990's with his involvement as a vocalist on the Christmas album "Holiday Heroes," with an ambitious New York producer. Two albums which were essentially Alan Merrill solo recordings (but released under a band name) followed, "Blue Guru" and "Yes I Ram." Merrill did all the lead singing on these two discs, except for one vocal duet on each CD, with Arthur Alexander and Jim "Basketball Diaries" Carroll, respectively. These albums can easily be found on ebay.
Meanwhile on a more positive and lucrative note, public demand in Japan for a Vodka Collins reunion was overwhelming, and the band reformed in 1995 to record the album, "Chemical Reaction." The Tokyo based group also recorded and released two more albums, "Pink Soup" and "Boy's Life" in 1997-98, all featuring Merrill's lead vocals, guitar, and compositions.
With the dawn of a new millennium, Alan recorded a new 21-song solo album, titled "Cupid Deranged," for sale in early 2002. The album is a recorded look-back-over-the-shoulder at his career repertoire, spanning the years, mixed in with some newer Merrill compositions as well. For those of you who missed this artist the first time around, this record will fill you in on a most interesting artist. More recently, in winter 2002, he has released the seasonal solo album, "A Merrilly Christmas." In the spring of 2003, his double-album tribute to songwriters Arthur Alexander and Otis Blackwell, "Double Shot Rocks," was released to fantastic reviews. In the year 2004 Alan Merrill is releasing two new albums, one solo and one band. The solo album is titled "Aleecat" on MEC Records, and the Vodka Collins reunion reissue is titled "Boys In The Band," a compilation of three albums. In September 2006 Alan Merrill released a new solo album titled "At The Candy Shop" and this follows a July reissue of his early career album, "Merrill 1."
In the year 2007 Alan Merrill released a tribute to The Left Banke titled "Rive Gauche" and featuring his version of the classic "Walk Away Renee." In 2008 Merrill issued two new albums, solo albums titled "Alien In Tokyo," on MEC Records, and the live album titled "The Aleecat, Live In Japan. " Also in summer 2008 Alan Merrill released a new solo maxi single EP ttitled "Hard Road" to round up the releases for '08. Two new solo albums have been recently released,.one in January 2010 titled "The Face Of 69" and "Numbers," in February of 2011, "Snakes and Ladders" in January of 2012, and most recently "Songer Singwriter" released in January of 2013. In 2014 he released a solo EP single "Arrows / 40th Anniversary Edition" featuring re-recordings of the Arrows hits and lost TV tracks. In 2016 he released a 21 song album titled "Demo Graphic"
Alan has been frequently touring Japan, England and Europe in recent years. He toured England, Japan and Germany in 2013-'14 playing both his hits and new music. A tour of Japan is set for mid May 2015.
After living most of his adult life abroad, Alan Merrill currently resides in his place of birth - New York City.
Some little known facts about Alan Merrill-
As a composer, Alan Merrill has written songs performed and recorded by such diverse artists as Lou Rawls, Rick Derringer, Chuck Jackson, Britney Spears, Runner, Freddie Scott, Felix Cavaliere, Queen Of Japan, Vodka Collins, Joan Jett, Five, Dan Penn, Mickey Curtis, The Arrows, Spooner Oldham, Reverend Run, Tensaw, George Collis Band, Monsieur Kamayatsu, Ramon Bugatti, Phoenix, Dragon Ash, Catherine Howe, Miley Cyrus, Diego Boneta, Julianne Hough, Mari Kaneko, The Grand, Forever Young, Russell Brand, Alec Baldwin, Shinohara Nobuhiko, Tiny Tim, Taylor-Neely Band, LA Guns, The Toys, Superfly, Christina Aguilera, Rolly and Troy Turner.
Alan was elected a New York Chapter Governor of NARAS, the Grammy Awards organization, for two terms in the 1980's.
Alan Merrill was the first person on earth to sing the classic song "I Love Rock N Roll" of course, at the time when he wrote it in 1975. He was also the first singer to release a recorded version of the song in 1975 as lead singer and frontman of The Arrows, and he was the first person ever to perform the song, both on stage in front of a live concert audience and on television.
He was the first successful foreign pop star in Japan's domestic market, scoring a top 10 solo hit with the single "Namida" from the album "Alone In Tokyo" on Atlantic Records Japan in 1970, singing the entire album in Japanese.
Alan was the first signing to Atlantic Records Japan in 1969 as a solo artist and the first artist to have a hit single on the newly formed label.
Alan Merrill was married to supermodel, the late Cathee Dahmen in the late 1970s and they have two children, Laura and Allan jr.
Vodka Collins, Alan Merrill's band formed in late 1971 with The Tempters drummer Hiroshi Oguchi and bassist Take Yokouchi, were the first glam rock band in Japan's local music scene.Their debut single double a-sided single "Automatic Pilot" & "Sands Of Time" in 1972 was a landmark release in Japan. The single was the first Japanese language release in the glam rock gengre
Alan's composition, "When The Night Comes" (as recorded by R&B great Lou Rawls in 1983), was taken into space by the first black astronaut in history, Guion "Guy" Bluford. It was the first LP ever in outer space, and Alan Merrill wrote the title track! The album "When The Night Comes" by Rawls, also won two Beach Awards for best album, and the recording has a 5-star rating (full marks) in Rolling Stone magazine's album guide.
Alan was featured in a Nissan car commercial as a model in 1970, for the Nissan Sunny Excellent 1200 and 1400 campaigns. It was the biggest ad campaign ever by Nissan at the time, and the commercial ran 200 times a day on Japanese TV on all channels. He was also a model for Jun clothing, GT jeans and others in Japan.
In 1974 after leaving his successful career as frontman with the band Vodka Collins in Japan and being in England only six months, Alan Merrill made the UK charts as lead singer of The Arrows rock band with his debut recording in that territiory, the top 10 single "Touch Too Much" produced by Mickie Most. The song made #6 in the NME charts and #8 in the BBC charts. The Arrows had three chart hit singles.
During his band The Arrows weekly television series run Alan Merrill seriously dated and nearly eloped with actress Mackenzie Phillips in the late 1970s. Their relationship is detailed fondly in Ms. Phillips' autobiographical book "High On Arrival."
An American starting his career in Japan, Merrill has had hits as a singer in Japan, the UK, and Europe in both English and Japanese in various career incarnations across the years.
- Van Walker